[ENGLISH VERSION BELOW PHOTOS]
IDS maakt bekend dat het BigMile gaat integreren in haar Freight Forwarding en Control Tower oplossingen. Met deze samenwerking slaan beide organisaties de handen ineen om de klanten van IDS te voorzien van data, rapportages en advies omtrent CO2- uitstoot en reductie in transport.
Door de komst van de Corporate Sustainability Reporting Directive (CSRD) is een grote groep bedrijven vanaf 2025 verplicht om te rapporteren over hun duurzaamheidsprestaties. Een aantal daarvan moet dit nu al. De verwachting is dat uiteindelijk steeds meer organisaties de groei moeten, én, vanwege marktvraag en merkreputatie, ook willen combineren met diverse duurzame initiatieven.
Van data, via inzicht naar actie
Continuous improvement zit in het DNA van IDS. "Dagelijks begeleiden wij klanten bij het navigeren naar slimme transportkeuzes, zoals het reduceren van lege kilometers door het slim combineren van vrachten en zendingen. Alles met als doel de performance te verhogen, kosten te verlagen en nu steeds vaker ook het reduceren van de CO2-uitstoot", zegt Leon de Koning, Managing Director van IDS.
Als logistiek control tower organiseert en regisseert IDS het inbound en/of outbound transport voor haar klanten. Hiervoor werkt de onderneming samen met een groot aantal vervoerders. De ene keer is dat met een reeds bestaande vervoerder vanuit de klant, de andere keer een geselecteerde vervoerder uit het grote IDS netwerk met landenspecialisten. "Al jaren maken wij daarbij ook berekeningen omtrent CO2-uitstoot zichtbaar via dashboards en deze bespreken we in Performance Review Meetings. Veel ervaring die we meenemen naar de volgende fase", laat De Koning weten.
Die volgende fase gaat IDS in met de integratie van BigMile. "Het partnership met BigMile zorgt ervoor dat wij als non-asset en onafhankelijk ketenregisseur het transport nu ook echt competitief kunnen incorporeren in de diverse duurzaamheidsstrategieën en doelen van onze klanten."
CO2Trackr helpt organisaties op weg
Voor organisaties begint de rit met het in kaart brengen van de huidige situatie. Hiervoor heeft IDS de CO2Trackr ontwikkeld. Aan de hand van historische data geeft de CO2Trackr inzicht in de huidige carbon footprint, om vervolgens met simulaties de route naar het besparingspotentieel uit te stippelen."De tooling van BigMile is precies wat we zoeken, namelijk een digitale oplossing waarmee we harde data en 'what-if' scenario's op zendingniveau direct kunnen vertalen naar inzicht en actie", aldus de Koning.
Goed voorbereid op de toekomst
Jan Pronk, Managing Director van BigMile, zegt over de samenwerking: "De klimaatverandering is een wereldwijd probleem dat om grensoverschrijdende supply chain-oplossingen vraagt. We zien in de praktijk dan ook steeds meer bedrijven die samenwerken aan duurzame initiatieven die bijdragen aan aanzienlijke emissieverlaging. BigMile en IDS faciliteren dit. Dankzij de integratie met onze Emission API kan IDS haar klanten voorzien van accuratere inzichten in hun eigen carbon footprint. Vervolgens kunnen de transportregisseurs van IDS samen met de klanten naar de data en analyses uit BigMile kijken naar initiatieven die de uitstoot terugbrengen."
Daarnaast benadrukt Pronk dat, met het oog op de aankomende wetgeving voor CO2-rapportage, de softwareoplossing aan de ISO-normering voldoet. "We verwachten dat ISO14083 de nieuwe, internationale standaard wordt bij de berekening en toewijzing van CO2-uitstoot. Bedrijven en instellingen zijn met BigMile goed voorbereid op de toekomst."
--- einde persbericht ---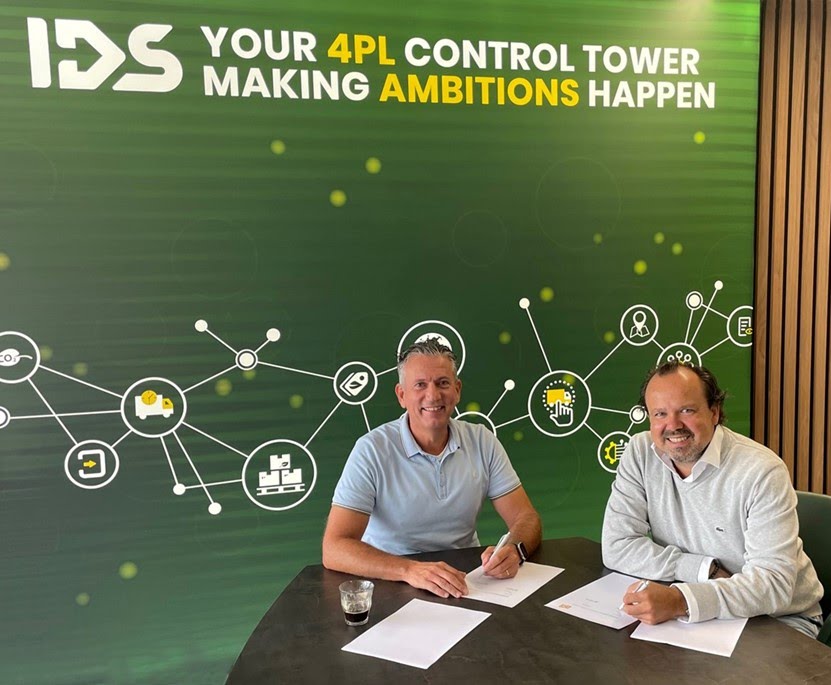 Leon de Koning (links) en Jan Pronk (rechts)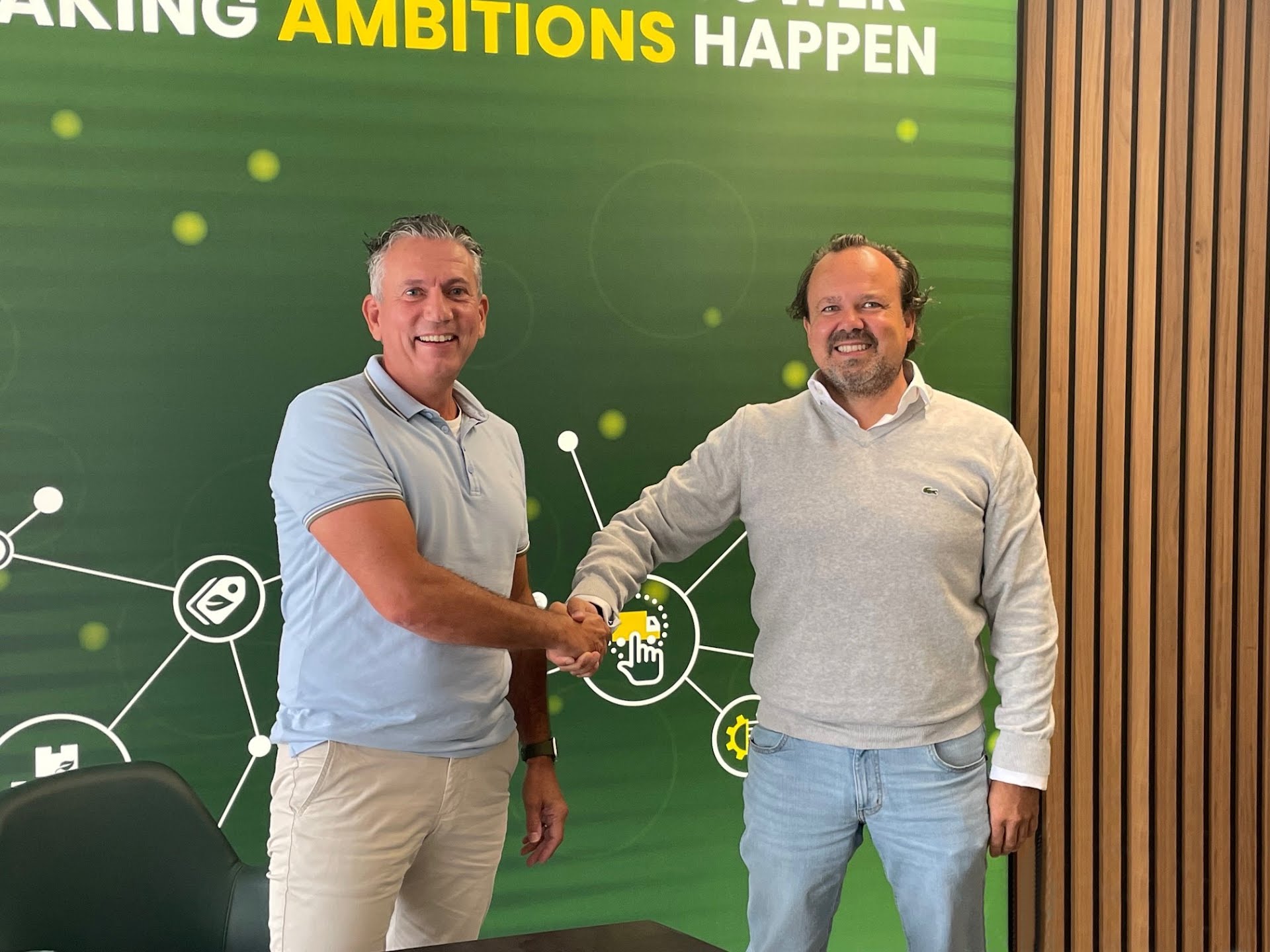 4PL provider IDS integrates BigMile to help companies improve their sustainability in transport
IDS, a company specialized in organizing and optimizing transport across Europe, has announced that it is integrating BigMile into its freight forwarding and control tower solutions. Thanks to this unique collaboration, customers of IDS will benefit from data, reporting and advice to help them reduce their transport-related carbon emissions.
Under the Corporate Sustainability Reporting Directive (CSRD), a number of businesses already have to report on their sustainability performance, and another group of organizations will be required to do so from 2025 onwards. Not only because of this directive, but also due to customer demands and to enhance their brand reputation, organizations are expected to increasingly want to support their growth ambitions with various sustainability initiatives.
From data-driven insights to action
Continuous improvement is in IDS's DNA. "Every day, we assist customers in making smart transport choices, such as to reduce empty miles by smartly consolidating shipments. We are committed to the goals of improving performance, lowering costs and, increasingly, also reducing carbon emissions," says Leon de Koning, Managing Director of IDS.
As a logistics control tower, IDS organizes and manages inbound and/or outbound transport for its customers. To this end, the company works with a large number of carriers – either with the customer's own existing carriers or with carriers selected from IDS's large network of country specialists. "We have been reporting on the calculated carbon emissions through dashboards for years and bringing them to the table during performance review meetings. We are now taking all this experience to the next phase," adds De Koning.
The integration of BigMile marks the start of that next phase for IDS. "This partnership ensures that we, as a non-asset and independent specialist in organizing and optimizing transport, can now really competitively incorporate transport into the various sustainability plans of our customers," he continues.
CO2Trackr helps businesses get started
For businesses, the journey begins with analysing the current situation. IDS has developed the CO2Trackr for this purpose. CO2Trackr provides insight into the current carbon footprint based on historical data, and then uses simulations to map out the route to potential savings. "BigMile's tooling is exactly what we were looking for: a digital solution that allows us to translate hard data and what-if scenarios at shipment level directly into insights and action," says De Koning.
Well prepared for the future
"Climate change is a global problem that requires cross-border supply chain solutions," comments Jan Pronk, Managing Director of BigMile. "That's why we're seeing more and more companies working together on sustainable initiatives that contribute to significant emissions reductions. BigMile and IDS are both facilitating this. Thanks to the integration with our Emission API, IDS can provide its customers with more accurate visibility into their own carbon footprints. IDS's transport specialists can then work with customers to find initiatives that reduce emissions based on the data and analytics from BigMile."
In addition, Pronk emphasizes that the software solution meets ISO standards, which is important in view of the upcoming carbon reporting legislation: "We expect ISO14083 to become the new, international standard for calculating and allocating carbon emissions. Businesses and institutions working with BigMile are well prepared for the future."
--- end of press release ---
About IDS
Founded in 1988, IDS is a 100% independent non-asset transport specialist. As an intermediate between shipper and carrier, IDS organizes and optimizes transport for its clients. This is already possible from 1 loading metre. Thanks to smart SaaS solutions in combination with specialists with an enormous passion for transport, the Freight Forwarding and Control Tower solutions are designed for both inbound and outbound, all modalities and throughout Europe. Clients such as DSM-Firmenich, Covestro, Stahl, Nouryon, Fujifilm, Elementis and Mitsubishi use IDS to lower costs, improve performance and reduce CO2. IDS works closely together with carriers selected by the shipper as well as carriers from its own large IDS network. IDS is also specialized in arranging ADR and conditioned transport.
About BigMile
BigMile is a calculation and analysis platform that logistics service providers and shippers can use to report on multi-modal transport-related carbon emissions of their transport. The SaaS platform is suitable for companies with a regional or city-wide coverage area as well as for globally operating multinationals that use various transport modalities. There are currently already over 200 BigMile users, including companies such as BSH, Ceva, DHL, Driscoll's, DPD and Ricoh. BigMile was established in 2019 from Top Sector Logistics and Connekt and has been an independently operating international company since the summer of 2020. BigMile is ISAE 3000 certified and an SFC Accredited Partner in accordance with the GLEC Framework.
Voor meer informatie kunt u contact opnemen via email: info@idsnl.com of bellen naar +31 (0)88 4374370